PRINTING UNITED
DATE: Oct. 19th-21st, 2022
PLACE: Las Vegas Convention Center
Register HERE.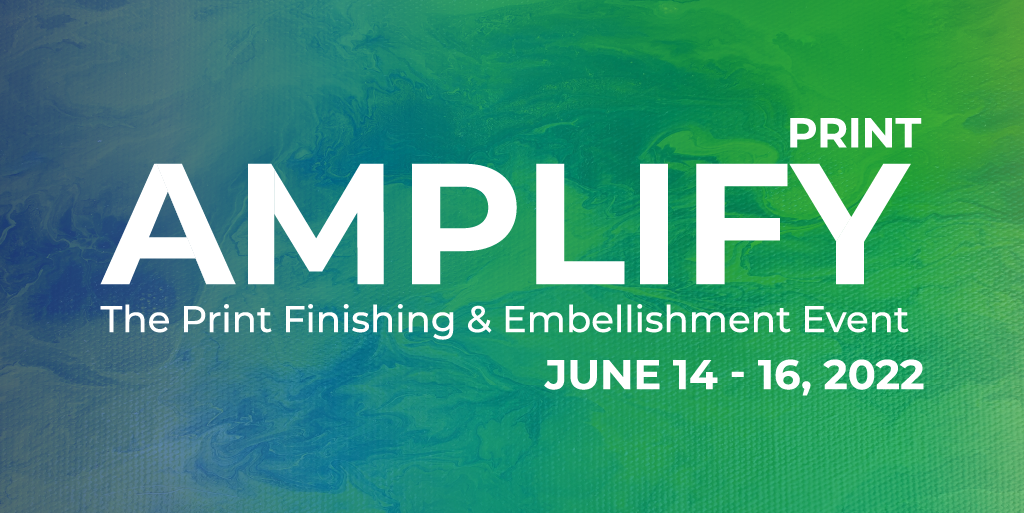 DATE: June 14th-16th, 2022
Place: Minneapolis Convention Center
Register HERE.
Amplify brings print finishing and embellishments to the forefront. This is the first of its kind event bringing together products and processes that raise the standard for foil and coatings, diecutting, folding and gluing, binding, direct mail and more!
Print & Finishing Solution (PFS) is a proud sponsor of ACUP+ and has had the benefit of supporting colleges and universities across 19 western states. We look forward to getting to know you at this wonderful event.
If you would like to schedule a time to discuss your needs or what PFS can do for you, please fill out the below information. Indicate a convenient day and time to reach you, and one of our Account Managers will be happy to assist you.
ACUP+ is scheduled for Sunday, April 3rd - Thursday, April 7th in Vancouver, WA.
Register for this event HERE.
For any questions or concerns, please contact your sales representative or call: (800)-398-5283.
FROM SURVIVING TO THRIVING: BOOST IN-HOUSE CAPABILITIES
We are excited to invite you to our 14th annual TECHEXPO. Come spend time with top leaders in print and finishing as they share hands-on knowledge and provide live demonstrations on the latest equipment and technology in the print world today.
Spend time with over 15 manufacturers- all top leaders in the industry. Become better acquainted with our PFS team in Southern California, networkd and connect with other print leaders.
For the health and safety of our clients, vendors and staff, we will be limiting capacity per time slot to crate a COVID compliant environment. Please select from the time slots below. TECHEXPO2020 will commence on Thursday, Nov. 12th and conclude on Saturday, Nov. 14th. This is event is free and is by appointment only. Masks will be required for entry. If you do not have a mask, one will be provided for you.
| DATE | TIME SLOT |
| --- | --- |
| TH, Nov. 12th & FR, Nov. 13th | 10am - 12pm |
| TH, Nov. 12th & FR, Nov. 13th | 1pm - 3pm |
| TH, Nov. 12th & FR, Nov. 13th | 3pm - 5pm |
| SAT, Nov. 14th | 10am - 12pm |
| SAT, Nov. 14th | 1pm - 3pm |

The PRINTING United digital experience will include three power-packed weeks of cross-segment programming and new product launches commencing on Monday, Oct. 26, 2020 and concludingon Thursday, Nov. 12, 2020.
NEW PRODUCT DEMONSTRATIONS
MANUFACTURER
NEW PRODUCT LAUNCH
DEMO DATE
TIME
Horizon
BQ 500 / HT300
TH 10/28
1:30PM EST / 10:30 PST
SCREEN
TruePress Jet 530 (Labeler)
11/12
2pm EST / 11am PST
GEW

GEW Sheetfed Offset Presentation

UV LED Curing System
UV Curing System

TH 11/3
12pm EST/9am PST
RMGT/GSNA
RMGT 970
TH, 11/3
10:45AM EST / 7:45 PST
SCHEDULE AT A GLANCE
The digital experience will include a series of community-based content sessions called "INSIGHT DAYS." A new series will kick off each day, highlighting a different community focus spanning commercial print, digital print, wide-format print, In-plant, Mailing/Fulfillment and Packaging. We'd like to highlight what PFS believes to be some of the most exciting new opportunities that will be presented. If you have any qeustions about Printing United or woud like to ask follow up questions, please do not hesitate to reach out to our Equipment Consultants at &714) 238-1133. We are excited to be a part of this digital event.
| | |
| --- | --- |
| Monday, Oct. 26th | Graphics/Wide format-Hardware and Consumables |
| Tuesday, Oct. 27th | Apparel-Sreen/Decorating |
| Wednesday, Oct. 28th | Commercial-Digial Inkjet |
| Thursday, Oct. 29th | Packaging-Label and Flexible |
| Friday, Oct. 30th | Graphics/Wide Format-Finishing and Workflow |
| Monday, Nov. 2nd | In-Plant Forum |
| Tuesday, Nov. 3rd | Commercial-Offset |
| Wednesday, Nov. 4th | Packaging-Folding Carton and Corrugated |
| Thursday, Nov. 5th | Mailing and Fulfillment |
| Friday, Nov. 6th | Workflow and Software-all segments |
| Monday, Nov. 9th | Apparel-Direct-to-Garment/Direct-to-Substrate |
| Tuesday, Nov. 10th | Commercial--Dry and Liquid Toner |
| Wednesday, Nov. 11th | Industrial |
| Thursday, Nov. 12th | Digital Textile |
Join us with PIASC's Lobbyist RJ Cervantes of Frenandez Cervantes Government Affiars, as he discusses the most up-to-date information on recent federal and California state legistlation as it relates to COVID-19. Recorded on Wednesday, April 15, 2020.
To top